Every touchpoint matters in your brand's story, including the ones your customers never see. With the growing demand for marketing content, marketers are finding it difficult to keep up, and content becomes increasingly siloed across departments and systems, making it difficult to find, update, and align it with your brand's messaging. Workflows become convoluted. Content is duplicated and disjointed. Performance measures blow up.

You have a "content crisis" on your hands.

Sitecore Content Hub helps you take charge of your entire content lifecycle with a single, streamlined integration of all your internal content touchpoints.

REPLACE YOUR SILOS WITH SYNERGY
Content Hub replaces channel-driven silos with synergy-driven connections. Use Content Hub's powerful integrations to collaboratively create, manage, publish, and track your marketing content.

And do it all with visibility and collaboration across the entire content workflow, with its built-in Marketing Resource Management software.

UNIFIED SOLUTION FOR COMPLEX CONTENT NEEDS
Your content needs are complex; your content management doesn't have to be. Content Hub brings together a powerful set of tools in a single, unified interface. Manage all your digital assets with a DAM solution that integrates seamlessly with your CMS. Leverage Sitecore's Product Content Management and Content Marketing Platform to maintain brand consistency across business units, plan and streamline content production, and track the effectiveness of your campaigns.

AN AWARD-WINNING SOLUTIONS TEAM
With Alpha Solutions, you get one of the most skilled and well-known Sitecore Solution Partners in the world – and one of the first to be Sitecore Content Hub-enabled.

Alpha Solutions is a leading Sitecore Implementation Partner with responsibility for some of the largest and most complex e-commerce solutions worldwide.

We're ready to build your Sitecore Content Hub and help you solve your content crisis. Contact us, and let's get started.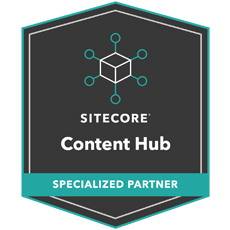 SITECORE CONTENT HUB FEATURES


Seamless integration with Sitecore CMS
Digital Asset Management
Content Marketing Platform
Marketing Resource Management
Product Content Management
Connector for Adobe InDesign