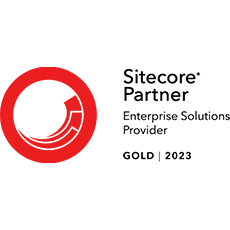 With Sitecore Commerce Cloud, you will always be ahead of the demands of the e-commerce industry and deliver personalized buying experiences across all sales channels.

The system's microservice-based plugin architecture allows digital merchants to hit each customer with context-based customization to suit their exact needs. Based on navigation, purchase history and optimized content, a complete customer profile is created, which provides the framework for a strong and personal buying experience.

Sitecore Experience Commerce is the next step for online businesses looking for an investment in the next generation of e-commerce software that transforms customers from one-time visitors to loyal ambassadors.


PERFECT FOR GLOBAL MULTIBRANDS
The uniform, and very user-friendly, business tool on Sitecore Launchpad provides control over key aspects, such as order management and product catalogs. Customers can view customized content and prices due to the platform's powerful rule engine, which can automatically read and display specific prices based on e.g. campaign and membership rules.

In addition, Sitecore Experience Commerce is perfect for global multibrands who need different pages with different currencies payment, which can also be managed from local cross-border branches.


EASY INTEGRATION WITH YOUR BACKEND SYSTEMS
Like Sitecore Experience Platform (Sitecore XP), all management tasks (product data maintenance, discount rules, customer data, inventory status, etc.) are shown as one graphical user interface and can be used as an API that can be easily integrated with all backend systems.

The platform can be used both as a standalone system or as a solution component.
SITECORE EXPERIENCE COMMERCE FEATURES


Personalized e-commerce
Sitecore Experience Accelerator (SXA) Storefront. Designed to accelerate the development and roll-out of storefronts through the Azure Marketplace or locally.
Enterprise architecture - focusing on scalability and integration
Manage prices, promotions, products and customers in Sitecore Experience Commerce BizFx tools
Personalize the buying experience through data-driven commerce with the Sitecore Experience database