Since 1756, Georg Jensen Damask has been known for quality, functionality, and durability, which is testified by their appointment as Purveyor to the Royal Court of Denmark. Their textiles and designs are of the highest standards and are based on their Scandinavian traditions. The same eagerness for quality craftmanship should now be transferred to their online sales channels.

Their focus for a new, modern retail website is focused on the ground pillars of functionality, aesthetics, and flexibility in order to meet the present and future demands. So, besides the wish for design optimizations, Georg Jensen Damask wanted to take a modular approach where they would be independent and free to choose whatever component they like into their stack.


COMPOSABLE COMMERCE IS FUTURE-PROOFING YOUR BUSINESSES
In other words, Georg Jensen Damask has chosen the composable way of doing e-commerce. The approach, basically, allows all technologies to run independently from one another through separate API's.

The solution uses Umbraco CMS, Struct PIM, and Ucommerce that makes content, product information, and e-commerce work together in great synergy.

Because the solution is "composable", it enables you to rapidly add or substitute technologies without affecting other systems in the solution. Hence, the path of moving on from a technology and the implementation of a new one is far more pain free than it has been traditionally.

This provides desirable freedom and adaptability in a world where shopping patterns and digital development move at a frantic pace. Now, Georg Jensen Damask can keep up with new demands from consumers by going from time to market much quicker.


TAILORED COMMERCE FUNCTIONS
No solution is the same, because no company is identical. So, making tailored commerce solutions will always be a key factor in creating successful digital experiences.

As something unique, customers can create personal, woven towels, and embroidered textiles at Georg Jensen Damask. The customized products have a longer delivery time, so we needed to create a handling of different deliveries for products on the potentially same order. Moreover, the integration to Ucommerce is also tailored to the specific way that Georg Jensen Damask handles prizes.


FOCUS ON PERFORMANCE AND USER EXPERIENCE
Besides the basic commerce functions, Alpha Solutions has also done the fundamental work of re-building hosting in Microsoft Azure based on best practices. The purpose is to strengthen site security and create a healthier and more cost-effective environment.

Furthermore, the solution is built on Vercel that hosts Next.js and React in the frontend. Vercel pre-renders all pages, resulting in better performance that can withstand any traffic spike, while maintaining best-in-class SEO practices. The platform ensures the possibility to show brilliant product and inspirational images of high quality without impacting the site's speed and, more importantly, the user experience.


A GIANT LEAP ON THE DIGITAL JOURNEY
The new website for Georg Jensen Damask places them in a leading position regarding system architecture. By choosing composable commerce as their approach, they are now adaptable and ready for any change in the ever-changing future of e-commerce.

Their digital solution now highly reflects modern web design with the same expression for quality and timeless design as the products display. For centuries, they have combined great craftmanship with great design. Now, the craftmanship is also unified with the current digital age we are living in.

Next up for Georg Jensen Damask, who is still in the midst of their digital journey, is the rollout of a Customer Data Platform.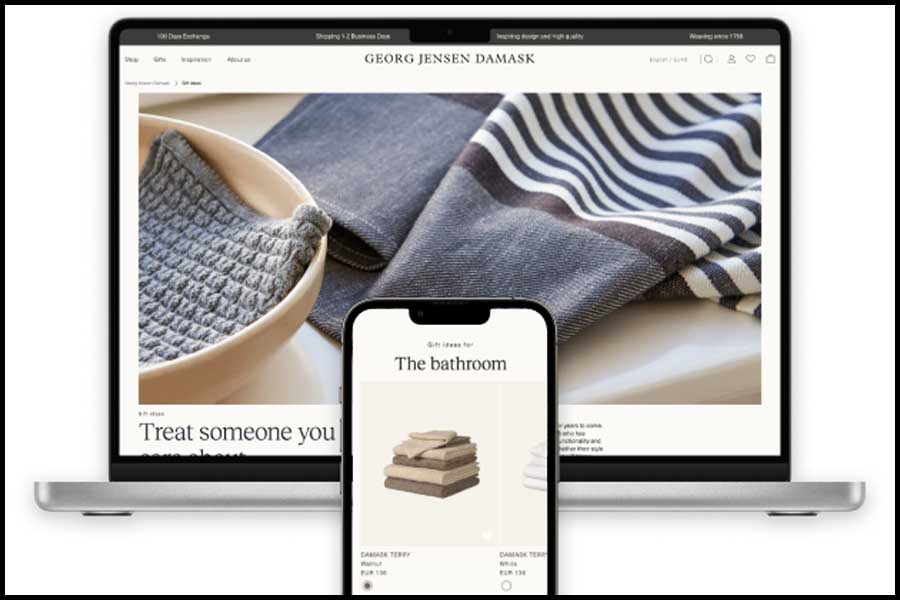 ABOUT GEORG JENSEN DAMASK

Georg Jensen Damask is a modern design and textile company. They primarily comprise textiles and accessories for the four most important rooms in any home: the living room, the kitchen, the bathroom, and the bedroom. Every design carries a story of weaving techniques and proud traditions that date back centuries.

They have four stores in Denmark, distribution agreements in 13 countries and online sales to the entire world.

www.georgjensen-damask.com
WHAT THE CUSTOMER SAYS

What has been working tremendously in the collaboration with Alpha Solutions is their impressive ability to handle our different levels and ways of communicating. They have been excellent at finding the right balance for getting things done in the best way possible.

- Anette Poulsen, Head of IT & Data, Georg Jensen Damask, 2023