With a collection of world-famous furniture classics, Fritz Hansen belongs to the elite of the international design industry. So naturally, their digital presence should be an aesthetic experience that goes further than just buying their iconic products. The customers should feel something special when looking for the extraordinary.


THE FEELING OF EXCLUSIVE DESIGN
Alpha Solutions' vast experience with developing B2C webshops was set to fix the functionality on Fritz Hansen's existing Sitecore platform. The ambition was to improve the buying experience on the webshop and furthermore provide the same feeling of top quality that characterizes the iconic products at Fritz Hansen.


BETTER FUNCTIONALITY
To fully concretize the needs for improvement, Alpha Solutions initiated an analyzing process, so forward going processes could be put into practice. This led to fundamental changes to the code that optimized the website.

Alpha Solutions re-designed the site, so the aesthetic look could match the new visual identity of Fritz Hansen. The site should mirror the design furniture's exclusivity.

The checkout flow has been improved and gives an enhanced user experience, while the whole webshop is search driven with the use of Sitecore Search Solution. The customers can now easily search for the many products through numerous search filters.

With an integration to inRiver, the management of product data has become more streamlined. With markets in different parts of the world and product pages in several languages, it was important to make this work process as easy as possible for the design brand. Now, they are able to deliver a consequently and beautiful presentation of their products to customers all over the world.


AESTHETIC LOOK & FEEL
Through an aesthetic look and feel, which to a great extent is driven by pictorial universes, the customers of Fritz Hansen now have the possibility to experience the design furniture in an inspiring interior context.

The solution invites the visitor into a branded universe of timeless design furniture. With the site's improved functionalities, the customer now also meets the sublime quality of Fritz Hansen online.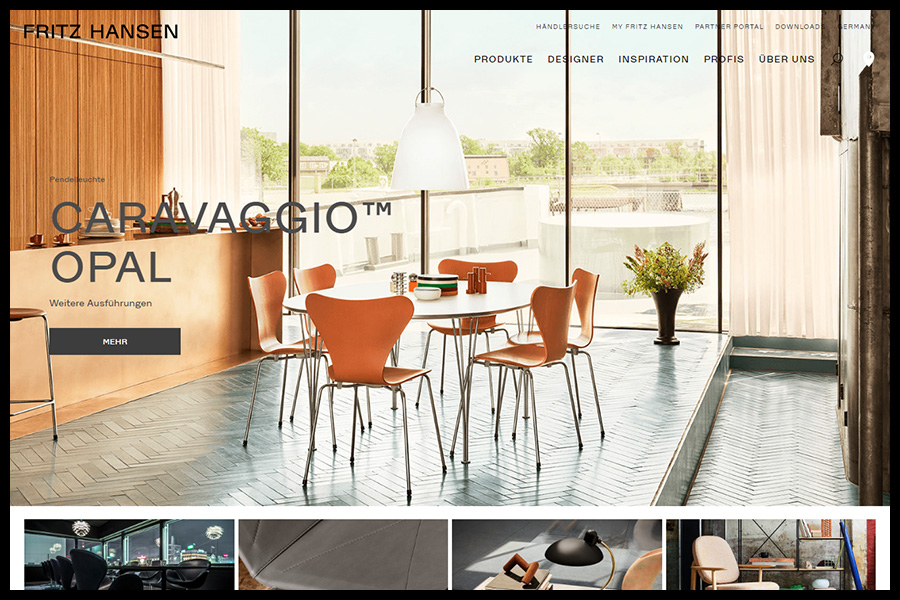 ABOUT FRITZ HANSEN

Republic of Fritz Hansen is an international, exclusive design brand, established in Denmark in 1872 with the mission to create timeless design. Fritz Hansen's collections feature internationally recognized furniture classics with modern furniture, lighting and accessories.

www.fritzhansen.com
WHAT THE CUSTOMER SAYS

"The essence of the partnership with Alpha Solutions is solid business understanding, agility and stability. Moreover, they are technically competent individuals who pulls together when we need strategic feedback, on-going development and ad hoc support."

- Ulrik Trenckner, E-commerce Manager, Fritz Hansen, 2019