AROUND THE WORLD
Georg Jensen wanted to boost their business to a higher international level for their recognized products to reach all corners of the globe. Georg Jensen needed a solid e-commerce foundation. They experienced challenges with the existing solution, that didn't enable global growth. They needed a solution that would consider the diversity of the markets so the purchase process could adapt to local facets.


EYE FOR THE LOCAL TRADE
In order to realize Georg Jensen's ambitions, Alpha Solutions developed a solution that we call "The Golden Trinity". The combination of Salesforce Commerce Cloud, Sitecore CMS and inriver PIM system. Salesforce Commerce Cloud became the platform foundation. This was integrated with Sitecore CMS, which enriches the webshop with valuable content and makes content editing more agile. Georg Jensen's product range varies in each of the 15 countries, which means that there is a product catalog for each market that is adapted to local preferences. The PIM system is therefore indispensable.

It takes mature knowledge and extensive technical experience to run an international e-commerce project, as Alpha Solutions has done in collaboration with Georg Jensen. The e-commerce culture varies from one country to another, in terms of payment methods, product preferences, freight, law and language. Each local site therefore requires specific integrations that consider the unique national conditions.

The complicated tax system in the US with sales taxes across states is just one example of a local buying aspect that must be considered. The final tax calculation depends, among other things, on product categories that vary by state. Alpha Solutions therefore integrated the tax calculation system, Avalara, which automatically calculates the taxable amount. Both for the paying customer but also in relation to the amount that Georg Jensen is required to pay each state.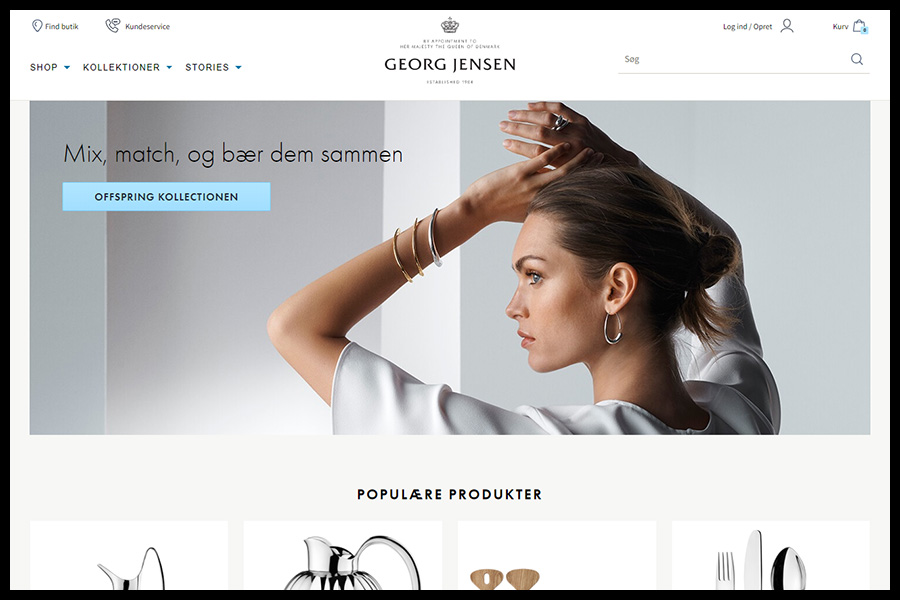 ABOUT GEORG JENSEN

With a history spanning more than 100 years, Georg Jensen represents unique craftsmanship, quality and timeless aesthetic design, ranging from corpus to watches, jewelry and home products.

www.georgjensen.com

To strengthen its credibility even further, Georg Jensen has translated all different pages, so visitors meet the webshop in their own, preferred language.

The solution was developed while Georg Jensen's ERP system was updated internally in their IT department. Despite this challenge, Alpha Solutions managed to implement the solution in a smooth transition – with no delays.
WORLDWIDE WEBSHOP
Alpha Solutions provided a new international webshop that makes Georg Jensen's iconic products available around the world with each country's e-commerce culture in mind. Alpha Solutions has created a foundation that allows Georg Jensen to grow, while also providing the framework for the company to roll out quickly in new international markets.