Content will help you build the needed SEO to drive users and conversions. It also helps building a trust-relationship with your target audience. ContentForge cannot help you define your strategy, but it can help you execute it fast if you're using Salesforce Commerce Cloud (SFCC), previously known as Demandware.

There's no doubt that Salesforce Commerce Cloud is a powerful and successful e-commerce platform, but managing pages and content is not its strongest side and doesn't match what content creators have become accustomed to from other platforms.

Some of the issues content creators face with SFCC are:


No content versioning, meaning that you cannot revert to previous versions of content
Working with SFCC requires more technical skill from content editors than most other platforms they work with
There's no real-time WYSIWYG or rich text content management, making the content management experience more cumbersome and time consuming
Editors need to know HTML to build more advanced pages and articles
No reuse of content
Managing of images and other files are not part of the editorial process – but should be uploaded and prepared before writing
No image manipulation tools (resizing or cropping) is part of the toolset
Limited flexibility into the structure and components of a page


Alpha Solutions created ContentForge to address these issues and utilize Sitecore to solve them.

In this blog post, we will walk you through some of the impressive features this module offers.


WHAT IS CONTENTFORGE?
ContentForge makes it possible to edit SFCC content and media using WYSIWYG editing – just as if you were editing the pages directly on your SFCC site. By adding simple markup on your SFCC isml templates, Sitecore and ContentForge can render your SCFF pages directly in Sitecore's Experience Editor – creating an intuitive, structured and productive editing experience for the editor.

This makes content creation easy and doesn't require the special skills needed for content management in SFCC.

Let's look at an example: The two following screens show the same page – the first one as it looks on SFCC, and the second one as it looks in Sitecore Experience Editor. You will notice a couple of differences as the page is in editing mode.

Normal SFCC Page: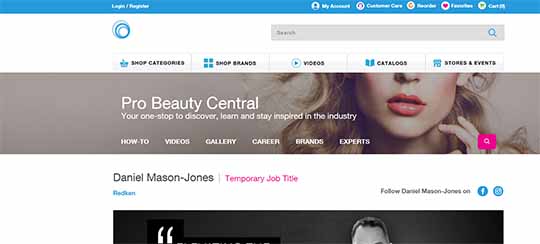 SFCC Page in Experience Editor: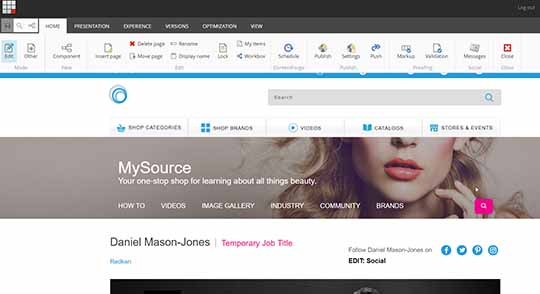 In the second screen shot you will notice the Experience Editor ribbon at the top, which provides the editor with Sitecore full editing toolset and features. As part of the ribbon, you will also see the ContentForge section, which allows you to push the content to SFCC, or schedule it to be published at a specific time.


WORKFLOW AND SECURITY
The security and workflow features of Sitecore give you full control of the content creation and publishing process. This is needed to establish a quality assurance process for your content creating and publishing plans.


INTEGRATING SFCC PRODUCTS WITH CONTENT
ContentForge also includes features for selecting products and categories from your SFCC product catalog – while editing content pages in Sitecore. This is often used to select products and categories that match the content being created and thus driving more sales. The selected products / categories are then pushed back to SFCC, where the components can use the data to render e.g. product carousels or alternative product presentations. Below you will find an example of this: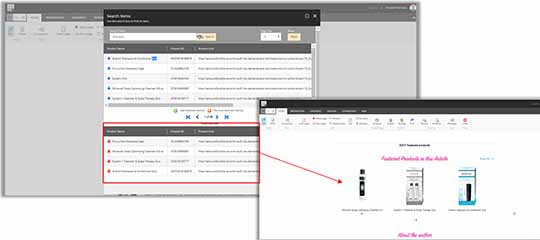 NOTES AND TECHNOLOGY
ContentForge is built on Sitecore and utilizes Sitecore's impressive features for content management. ContentForge therefore includes the same flexibility and is built using Sitecore best practices – making it easy to customize if needed.

On the SFCC side, ContentForge utilizes a number of technologies to work most efficiently with SFCC. This includes WebDAV, SFTP/FTP and OCAPI (Open Commerce API), as well as the SFCC Content API. ContentForge can push content to SFCC in two different ways:


Using the Content API – making the pushed content visible to the users fast
Using import jobs on SFCC. This is not as instantly visible, but it an feasible option.


Using the Content API is recommended, but your company's security policies might not allow this.