THE VISION
Karamelleriet crafts handmade toffees at their own factory, where quality, perfect consistence and the tasting experience are top priorities. The same experience when tasting the amazing products, should be reflected in the brand's online visual expression, where a personal and welcoming identity also had to be prominent. In other words, a branded webshop that could be able tell the story behind the toffees, but at the same time appeal to online shopping.


SHOPIFY AS THE PLATFORM
Karamelleriet used a combination of WordPress and Shopify in their already existing solution that after some time had reached its expiration date, and where it also was unsatisfying to update and maintain on two different systems. An agreement was reached to choose Shopify as the only platform, and therefore accentuate the online sale part in the firsthand experience. By doing this, a more streamlined working process would be created in daily operations, which minimizes costs in future maintenance.


THE PROJECT
At Alpha Solutions, we believe it is important to understand the customers' wishes, needs, and dreams in order to build the best possible sales channel. In this case, it had to contain story telling and shopping inspiration. Therefore, we started to center around specific details about appearance and special demands that the solution should be able to manage. It resulted in a prioritized list, which made the foundation for the choice of a Shopify theme, and gave some constructive conversations about the "need to haves" and "nice to haves". The choice of template is exactly what is decisive for the prioritized wishes. It is also important to carefully examine the selection of themes before a final decision is made.

For Karamelleriet we found the right theme, where the frontend modifications could be boiled down to a minimum, hence the expenses for custom code would remain low.


NEXT-LEVEL E-COMMERCE
With the new webshop, Karamelleriet now possess an up to date and modern digital presence that offers a great shopping experience across platforms. The responsive design creates a great buying experience on mobile and the solution has minimized both expenses and resources in daily operations. Together with Karamelleriet, we have created an e-commerce platform that covers the most important needs and also brings the toffee company to the next level of e-commerce.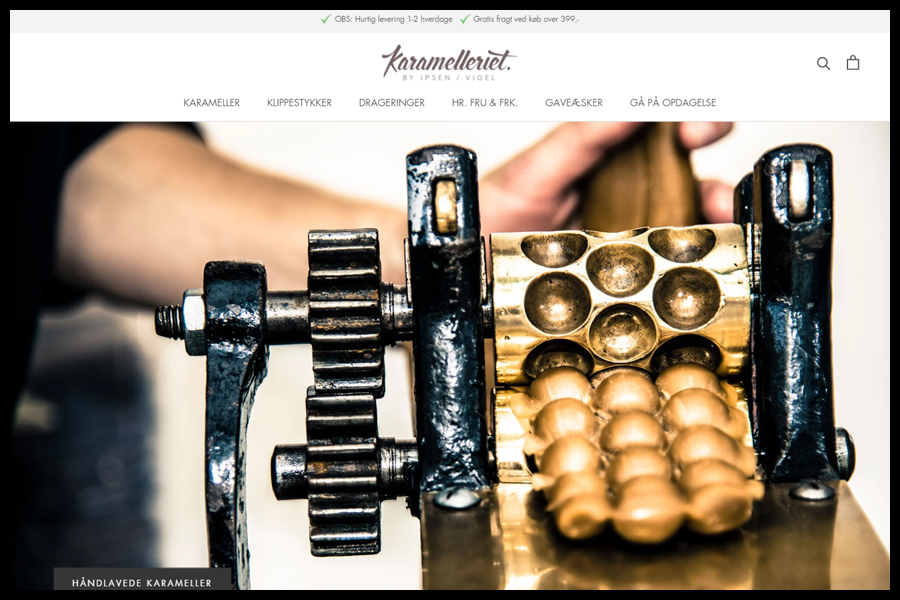 ABOUT KARAMELLERIET

Karamelleriet is the history about a dream becoming reality for the two owners, Charlotte and Tine, who are the persons behind the toffee success from Denmark. In 2006 they opened their own handmade toffee factory, where the search for the perfect consistence and the intense tasting experience always have been the top priorities. The tasty toffees can be bought online through a series of retailers, in their own brick-and-mortar stores, or in Karamelleriet's webshop.

www.karamelleriet.dk
WHAT THE CUSTOMER SAYS

"With all our time spend on making toffees, it was of importance for us to find a solid and trustworthy technology partner for our new webshop. We found that at Alpha Solutions, who through the whole project has guided and supported us with their great knowledge and e-commerce experience. Together with Alpha Solutions we chose Shopify, which really is the right solution for us, and we are excited about the good result we have received from our investment."

- Tine Frislund Ipsen, Co-Founder, 2020