Content marketing has reached not only a new level of urgency with record numbers of people shopping online but also a new level of complexity. David Krinn, UX Designer, and Angela Gustafson, Solution Principal, both of Slalom Consulting, explained why omnichannel delivery requires effective content strategy. Their presentation, "Managing content at scale with Content Hub: Considerations for an Omnichannel Content Strategy," focused on three of Content Hub's components to illustrate their point: Digital Asset Management (DAM), Content Marketing Platform (CMP), and Marketing Resource Management (MRM).
Understanding content scaling for omnichannel involves four different pillars.
Content & Experience Strategy. Creating content and designing experiences to meet users where they are.
Change Enablement. Operational considerations required to introduce and utilize the solution.
Experience Management. Configurations required to create and distribute relevant content at scale.
Ecosystem Implementation. Solution development to support the strategy (in this case, Content Hub).
CONTENT AND EXPERIENCE STRATEGY
Krinn and Gustafson started with three main elements of content and experience strategy: journey mapping, building taxonomies, and creating atomic content.
Content and experience strategy starts with a journey map, based on user research and analytics data, to better understand users' pain points and highlight which content to display, where to display it, and when. It is also connects content, channel, and timing to which format will entice customers to engage with it (i.e. video vs. email vs. blog post). All of this points to UX design for content delivery.
Journey maps are also a great place to start when you need to adjust what is working and what is not working, based on your analytics data.
Taxonomies also contribute to effective omnichannel strategy. Contrary to popular belief, taxonomies aren't about your website navigation. They're used for stuff like:
Classification
Searchability
Organization
Cohesion
Relevancy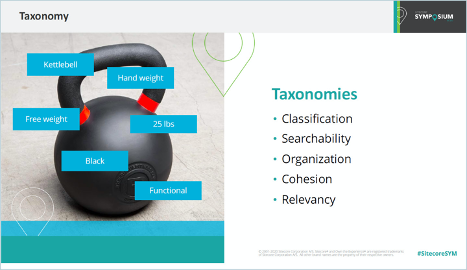 Taxonomies create order by defining relationships among attributes. Notice that only some of these attributes might be used as menu items in site navigation.
You'll notice that some of these are tightly tied to your system's end users, as well as to your site visitors. The point is that if your channel marketing and content creation teams can't find and use what they need, they waste a lot of time either searching or trying to replicate it, which often results in duplicated content that's not quite consistent with your brand. That said, well-built taxonomies also help classify important content components for site visitor searches.
Atomic design is a methodology involving building content from smaller components into larger ones (e.g. Atoms, Molecules, Organisms, Templates and finally Pages). It enables content portability and the single sourcing that helps maintain brand consistency when snippets of content can be reused across channels. It can also save time for omnichannel marketing.
CHANGE ENABLEMENT
Gustafson started this section with the quote: "The tool won't solve for a lack of omnichannel organizational strategy. An omnichannel organizational strategy should support what you are trying to do with the tool."
Organizational change is probably the most difficult part of using a new tool like Content Hub. Even if people are excited about it, learning how to use it and coming to grips with how it changes how they work aren't small things. So you need to enable change in your organization.
Organizational strategies help support not only content creation workflows, but also brand consistency. Understanding how teams connect with one another and what their specific roles are helps keep things moving smoothly and efficiently. (Different skill sets and responsibilities within Content Hub, which means they'll need different types of access in the system – all of which need to be thoughtfully configured.)
Then you'll need to create a governance model, using questions like these to begin:
How mature is the organization in its digital marketing?
What are the capabilities within the team?
Who owns which responsibilities?
Which processes will fall outside of Content Hub (and how do they connect)?
Who has final publishing rights?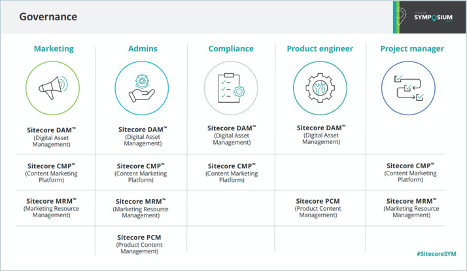 Example of how different teams map to different tools and kinds of access within the system.
How you enable change and adoption will directly affect your business performance and team productivity, so it should be done thoughtfully, inclusively, and pragmatically. Things to consider:
How will we communicate changes to leadership, stakeholders, and team members?
How do we plan to roll the new platform out? Module by module? Piloting with a team? Etc.
How will teams be trained?
What are our goals for adoption rates, and how do we create a plan to drive to them?
EXPERIENCE MANAGEMENT
Working in the system is as much an experience management challenge as the site's UX is for customers. If we build on it using what we learned and created in previous steps, we'll support our multichannel content strategy. This means we have to think through how we configure the system. A few examples:
Metadata dives into deeper detail than your taxonomy, adding descriptive elements to your asset files, like categories and fields, to expand on and support the taxonomy's hierarchy (and, ultimately, the end users' ability to find and use content in the DAM). How you configure your metadata can ultimately help or hurt content producers' ability to find files they need to create content for their channels.
Privileges and policies (such as DRM) need to be configured in user groups, as well as workflows, to support your governance strategy.
Templating content types using the atomic content you identified will help keep your brand's messaging and design consistent across channels.
ECOSYSTEM (CONTENT HUB) IMPLEMENTATION
Referring back to your journey map, you want to create integrations that optimize and support your high-value channels. You can use OOTB connectors (i.e. Sitecore, Salesforce Marketing Cloud, and inDesign), or you can create custom integrations, depending on your business need (e.g. ERP, PIM, etc.).
Key Takeaways:
It is important to have a strategy in place for a client.
It is important to understand the customer's full journey in order to make better decisions.
Building a content strategy from smaller pieces to bigger pieces is a great way to include and not miss anything needed.
Configuring the system with the organization's digital marketing maturity in mind will prevent it from being too complex to use and foster adoption.
HOW ALPHA SOLUTIONS CAN HELP
Alpha Solutions provides a full spectrum of Interactive Services, from Customer Experience Strategy and Research to User Experience Design and User Testing – and, yes, Content Strategy in collaboration with e-Commerce solutions and Search Optimization.
Sitecore XP's Path Analyzer visualizes the data collected from your sites to help you map your customer journey. Learn more.
Rob Reilley (AKA Sitecore Runner) is a multiyear Sitecore MVP working as a Senior Business Consultant at Alpha Solutions. He is based in the suburbs of Chicago. He has several years of Sitecore experience working with a variety of clients. He enjoys all things Sitecore, but especially enjoys moving data in and out of Sitecore from different sources.