TWO TRACKS BECOME ONE
NEYE wasn't new in the e-commerce world, but several challenges were limiting further growth online. The digital evolution had stagnated due to the existing platform, and the ERP system lacked essential webshop integrations.

The digital processes were divided and required a lot of manual processing, which caused issues for the organization as well as the end user experience.


INCREASED FREEDOM AND FLEXIBILITY
One of NEYE's primary goals was to make the e-commerce team more efficient and provide greater flexibility for e-commerce processes and routines. This meant that the project wasn't solely about implementing a new webshop, but also about influencing and involving a lot of other divisions such as purchase, customer service, finance, warehouse and the physical stores.

Alpha Solutions took the lead on the overall project management and managed the many processes that eventually would result in the organizational implementation as well as growth across all sales channels.

NEYE also needed a high degree of flexibility in the daily work with products, content and campaigns. Having a small e-commerce team, it was important to find the right match to support work processes as well as customer needs.

After consulting with Alpha Solutions, NEYE decided to build the new platform on Optimizely and inriver PIM, combined with the existing Navision CRM. By inserting inriver between the ERP and webshop, the solution would provide for a great product overview and with Optimizely's flexibility the daily e-commerce tasks were made much easier and efficient.

Using Optimizely has allowed NEYE to initiate and launch campaigns quickly, easily create new blog content and match content to product sales as well.


OMNICHANNEL SOLUTION
NEYE's new webshop was launched in November 2017 as a highly scalable omnichannel solution, which not only creates continued online growth but also drives customers and business to the many stores.

NEYE has gotten an automated setup, where the various business units communicate much better on a technical level, which allow them to service the customers better than before.

The joint platform delivered by Alpha Solutions has added value for the old trust, NEYE's many customers as well as the many research projects supported by the profits from the stores.


EPISERVER CAMPAIGN IMPROVES KLUB NEYE
In the spring of 2019, Alpha Solutions became the first in Denmark to implement Optimizely Campaign in collaboration with NEYE in order to improve their existing members club, Klub NEYE.

Klub NEYE's potential lies within the loyalty-creating activities, which has been proven over time. With a membership in the club the customers get e.g newsletters, coupon codes as well as an overview of their purchases and matching receipts.

Optimizely Campaign is built on the existing Optimizely platform and has become the heart in Klub NEYE, as the implementation creates omnichannel in the stores and connects all touchpoints in one single place. Alpha Solutions has with Episerver Campaign seen the potential in gathering data in a way where NEYE can create value for members of Klub NEYE.

Optimizely Campaigns' excellent user-friendliness has furthermore meant that NEYE now uses far less time when executing newsletters.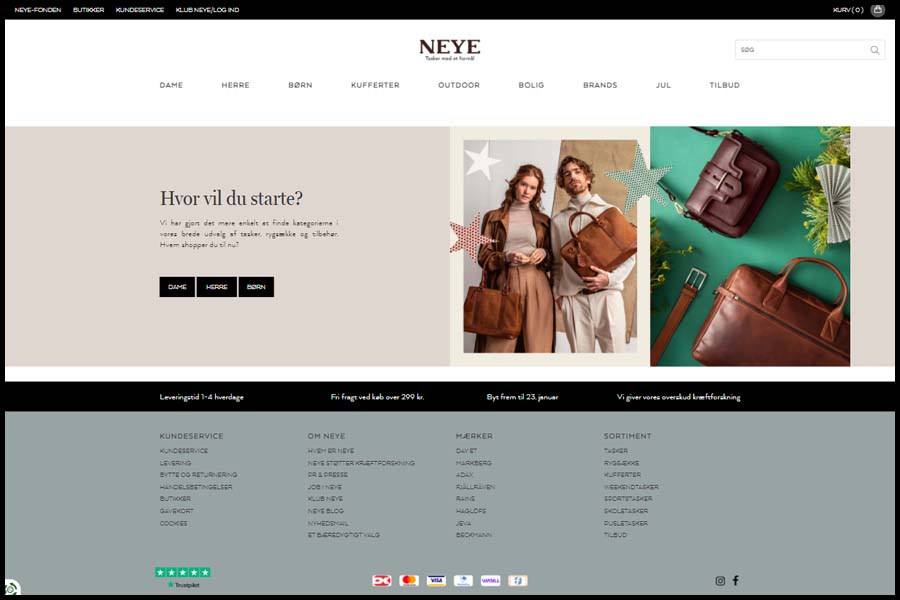 ABOUT NEYE

NEYE has 42 stores spread across Denmark as well as a webshop. NEYE is a market leader within their category for bags, backpacks, suitcases and accessories and provide several well-known brands.

Very uniquely, NEYE is owned by a trust and has since its inception in 1977 donated all its profit to cancer research.

www.neye.dk
TECHNOLOGIES

Optimizely Commerce Cloud
inriver PIM
Raptor Services