Magasin oozes of nostalgia and surely creates great shopping memories through multiple generations. When the department store wanted to conquer the world of e-commerce, Alpha Solutions was chosen to solve the complex task of transforming the 150 years old brand and its extensive supplies to an online universe where the customer and shopping experience should live up to the same standards as in the physical stores.


FROM ANALOG TO DIGITAL
Magasin needed a local and agile solution partner who was able to handle big digital commerce solutions.
The Danish retail industry is very tough, and expectations about sales numbers are sky high. There is no margin for error. The same applies, of course, within e-commerce. There is no time for integrations that do not work.

The department store therefore chose Alpha Solutions to develop a modern webshop that could handle the diversity of the assortments and Magasin's visual and well-known brand expression.

With the solution, there was also an intention to bring the customers closer to the company through loyalty programs, e.g. by integrating the Magasin Goodie Card.


IT BEGAN ONLY WITH A WEBSHOP…
In May 2012, Alpha Solutions began working on Magasin's online shop version 2.0. The webshop was developed on the already existing Demandware platform (now Salesforce Commerce Cloud), and things went fast. The new online shop was live just as planned in September 2012, only after four months. Alpha Solutions became the first in Scandinavia to build on Demandware.

The setup of the new shop was only the beginning though, of what should become a long and competent partnership. Alpha Solutions since helped and supported Magasin in their growth by integrating solutions that secured that the shop could live up to the high standards, a business with the caliber of Magasin demands.


THE COMPLEX PRODUCT VARIATION
It is without a doubt a comprehensive task to run an online assortment that contains of more than 300,000 products. Especially when there's a significant difference in products, which means that the product pages are built differently to be modified to the given product. The associated 'brand stores' all have specific requirements to the brand's unique design on the site. A challenge that Alpha Solutions was able to handle with a deep business understanding.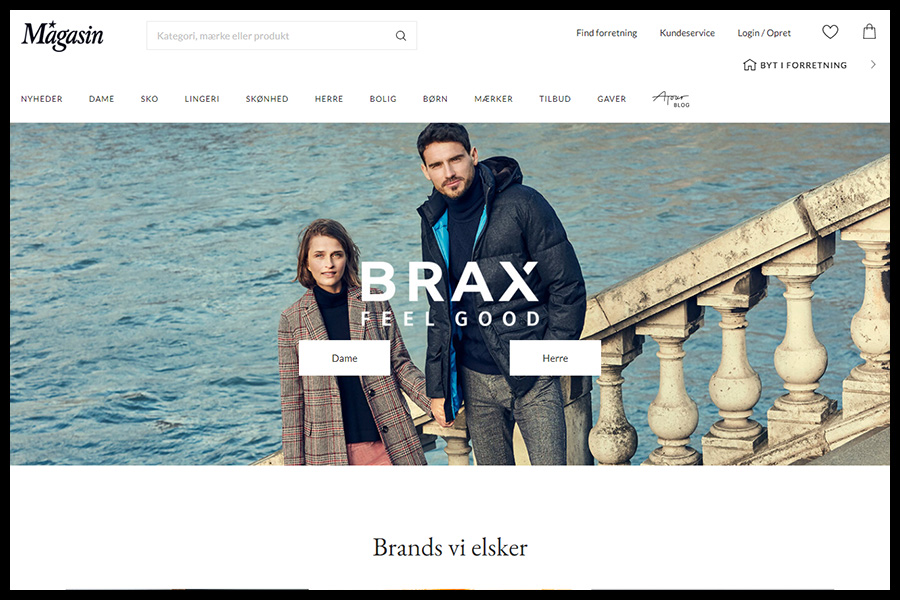 ABOUT MAGASIN

Magasin's impressive history goes all the way back to 1870. Magasin Du Nord at Kongens Nytorv is today the biggest department store in Denmark. With seven locations around the country, Magasin is a department store that is known by most people. Magasin is an exclusive shopping universe stocked with experiences that offers a selected range of fashion clothes, accessories, beauty products, home décor, food, wine and deli.

www.magasin.dk
An online shop with the size of Magasin contains technological complexity, as many systems need to work together in order to make a 150 years old department store function online. There was an immense challenge by transforming the large amounts of data in the ERP system to the online universe. A connection between the offline and online channel was also necessary for the optimal shopping experience. A task Alpha Solutions could cope with, due to the long track record with complex omnichannel solutions.


A LONG PARTNERSHIP
Alpha Solutions and Magasin has been a part of a competent partnership through the years. An equal working relationship that succeeded, highly because of the big dedication both parts brought into the project.
The collaboration has been characterized by flexibility and effectiveness. Alpha Solutions has used business understanding and technical know-how to advice Magasin in the right direction with the digital strategy.


FUTURE-PROOFING OF MAGASIN
Alpha Solutions created a new sustainable foundation for Magasin's digital business activities. Stable and solid solutions was built and the recognized institution future-proofed its digital presence and increased its loyal group of customers.

We are not afraid to admit that our expertise has been a key factor in making Magasin the leading online department store in Scandinavia.