DLG is an international concern with corporations in 18 countries. With 58 billion DKK in revenue it is also one of Denmark's biggest companies based on turnover. Their extensive growth and the large size of the organization with a co-ownership of more than 25.000 Danish farmers, naturally demands some high standards to the digital solutions, which need to strength the organization's many members, who has to be as competitive as possible.


CONVERSION TO THE MODERN FARMER
DLG wished to develop a digital solution that would bear the common farmer in mind. With an upcoming generational shift in the farming industry, it was necessary to move on from a nearly non-existent digital setup to acquire a modern platform that could optimize the user information flow, maintain the large number of younger farmers, and match the international size of the organization.

DLG needed to become a frontrunner in the utilization of digital tools within the Danish farming industry.


A SOLID AND SCALABLE FOUNDATION
It was decided to develop a solution on a Sitecore platform that was created as the foundation of DLG's digital universe. It is built to withstand large and deep scalations in an effective manner.

By having the foundation in order, DLG has had the opportunity to build more digital solutions to their corporations. For example, websites and apps for their two large German firms, HaGe and Roth. All solutions are migrated on the commerce part, which makes it possible to manage both backend and the separate ERP systems in SAP. The solutions save DLG for a notable amount of resources and makes it easier to further develop from the platform, while maintaining a streamlined technical and design setup. The Sitecore platform secures a large scalability and makes the continuing digital expansion more efficient because of the solid foundation.


FARMING WITH COMPLETE OVERVIEW
The most central part of Alpha Solutions' work with DLG's customer portal has been related to the system landscape, the architecture and the integration to DLG's complex core systems.

A major part of a farmer's work consists of managing a lot of different administrative tasks. To make this part more convenient, Alpha Solutions created a long list of services that are integrated around every single farm. The solution, which is the only kind on the market, makes it possible for DLG's customers to e.g. perform self-service, find information about legal requirements, follow the price development on a selected range of crops and keep track on the harvest with the services "Crop overview" and "Grain stock".

The portal creates a personalized overview, so the farmers automatically get information that concerns their specific farm only.

Over time, the farms in Denmark have become fewer, but bigger, and that has also created a reason for change in the customer portal, why Alpha Solutions and DLG since has been developing the solution further. There has been added an integrated role managing service with the possibility for several logins to the same farm. Every login can each have a role, so an employer, a salesman or an accountant all are presented to different types of selected information that is relevant for their exact work routines.


E-COMMERCE WITH AN OMNICHANNEL FOCUS
In addition to the large focus on the cutting-edge customer portal, Alpha Solutions has also created an e-commerce solution for DLG's own chain of shops, Land & Fritid. The brand, who functions as B2C, have 39 stores spread around the country and offer products for homes, gardens and pets.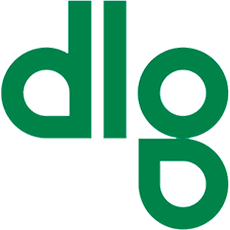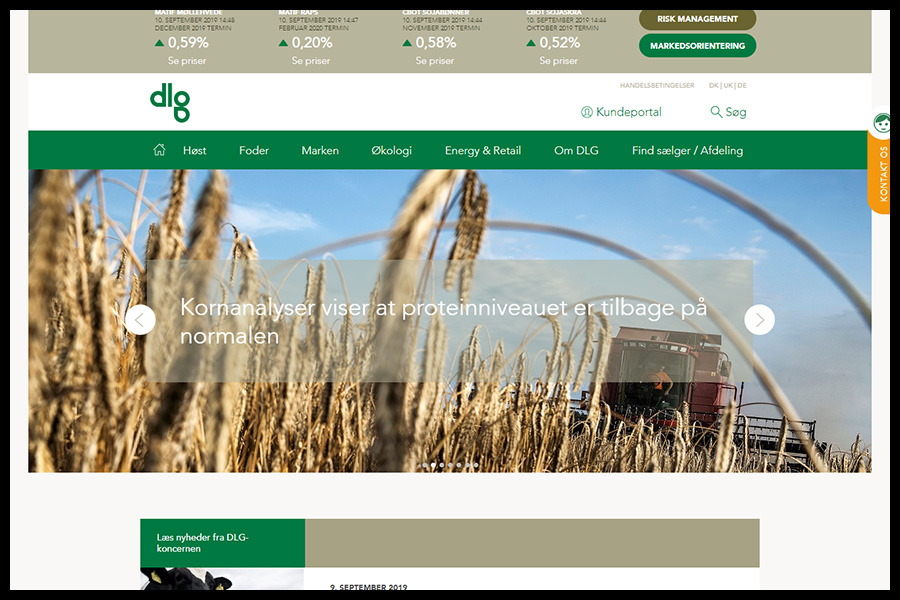 ABOUT DLG

The DLG Group is one of Europe's biggest agricultural organizations and is owned by more than 30.000 Danish farmers.

DLG has roughly 6,700 employees and a 80 billion DKK in revenue in 2022.

In addition to the supplies of forage and heavy goods, the organization offers removal of crops, insurances and energy supplies.

www.dlg.dk
WHAT THE CUSTOMER SAYS

"We have only seen the beginning of the digital journey, and it only becomes more important to differentiate yourself in the market going forward. If you look at the ten biggest agribusiness companies in Europe, they all work with the same digital mindset, why it's important to be ahead of the curve with the digital development".

"Alpha Solutions has given the necessary support to DLG to be able to make the right choices from the beginning and at the same time think one step ahead on our digital journey. Alpha Solutions has therefore been our preferred partner at integration and e-commerce since 2013."

"We have been able to develop a solution that's very scalable. Despite a strong focus on expenses, we have secured, with solid support from Alpha Solutions, the ability to run the digital development across industries and corporations."

- Mads Hove, Deputy Director, IT & Business Transformation, 2019
TECHNOLOGIES

Sitecore
Sitecore Search Solution
SAP
Frontlab

With a changed shopping behavior from the Danes, who increasingly shop online, Land & Fritid needed a webshop that could accommodate an omnichannel approach. With higher expectations from customers to have the same buying experience across channels, it was important for Alpha Solutions to merge the different sales channels into one united store.

That's why there has been integrated a Click & Collect solution that makes it possible for customers to order products online, which can be sent directly to the customer or be collected in-store.


THE RIGHT TECHNOLOGY FOR THE RIGHT PURPOSE
Alpha Solutions' ability to recommend DLG the right solutions and build bridge between business demands and IT solutions has led to a long and valuable partnership.

It is not always about being able to integrate and develop complex technical solutions. The successful partnership is also about having a consistent image of where the project is heading and choose the right technology for the right purpose.

Therefore, it has been a priority to structure and connect that data which stems from the ERP and PIM systems, so it makes best sense in regard to the final goal. This technical back-and-forth feedback has secured a thorough and solid implementation of technologies, created on the foundation of business understanding and an advanced, but well-functioning architecture landscape.
DLG HARVEST GREAT SUCCESS
With multiple unique solutions within the farming industry, DLG can now offer its members modern and time-saving solutions, which makes the organization more attractive to be a part of for the farmer of today. The infrastructure on the Sitecore platform, which is built by Alpha Solutions, is now in place. It gives DLG the possibility to scale without using notable resources.

DLG's digital solutions has since the start of the partnership with Alpha Solutions been one of the best in Denmark. It has been nominated to e-commerce awards several times, where it has won bronze and silver medals in 2017 and 2018, respectively. In 2019 it finally achieved gold, by winning the e-commerce award for best B2B solution.

Moreover, DLG's app has won gold at the Danish Digital Awards. The application has had a lot of success, not least because of Alpha Solutions' work with the data part and the integration between Sitecore and SAP that provides the Danish farmers with another innovative and digital tool.

The success can also be measured financially. The group's digital revenue has gone from zero to 1.2 billion DKK in 2018.