A GREAT CONCEPT
Skin & Goods has a 100% focused and great concept, tailored for the ambitious woman, who does not want to compromise on style, wellness, and self-indulgence. In the same way, the plans for a website and e-commerce were strictly defined, and the design and communication strategy were already in place.


THE TASK
Skin & Goods had come a long way on their own by building an e-commerce channel, but because of the strictly defined concept there was still some way to go from a standard Shopify template to a unique and branded webshop. Alpha Solutions was therefore contacted in order to execute the many design-oriented frontend modifications, but also in regard to consult about the operation of the digital business.


THE COLLABORATION
Alpha Solutions has tailored this Shopify solution, so it matches the very precise and unique look and feel, that Skin & Goods was looking for. We have adjusted modules, mails, product pages, list views, the basket and more. We have also ensured that the correct appearance functions on different platforms.

Moreover, we have helped with e-commerce consulting and how to operate an e-commerce channel with a global starting point with great potential.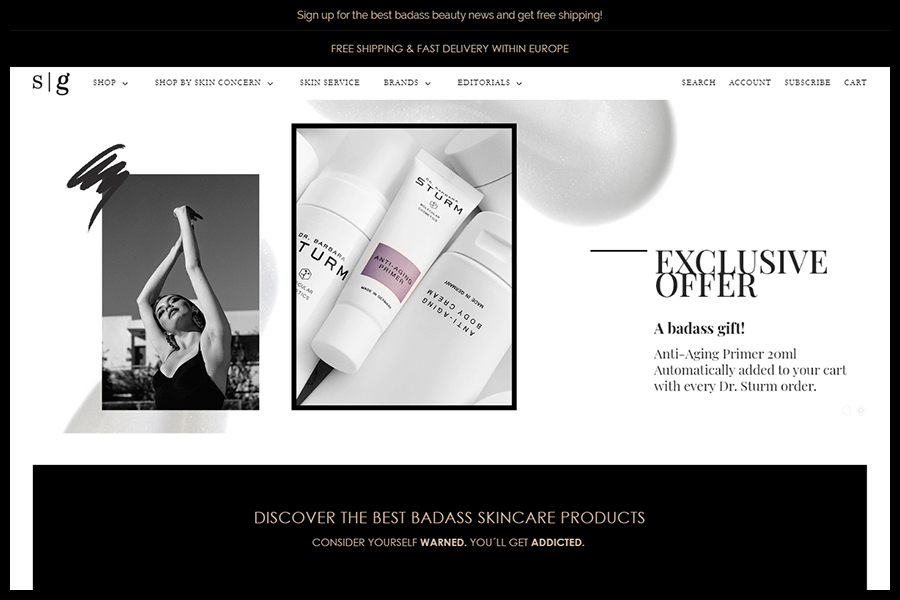 ABOUT SKIN & GOODS

Skin & Goods is an online beauty platform for women, who search for education and information about the best beauty and skin care products available. Skin & Goods targets the conscious and picky customer and deals with multiple unique brands that are hard to find elsewhere in the retail business. The company has a great international focus and sells online in a global market.

www.skinandgoods.com
WHAT THE CUSTOMER SAYS

"Skin & Goods is a platform to educate and inform women all over Europe about the beauty industry and the dirty secrets behind the scenes. We provide them with the best, badass beauty products, that actually work, tested and approved by an industry expert. Alpha-Solutions was a great help to get me to the finish line, when launching the store, to assist with fine-tuning and make sure all aspects of our store was performing like it should. Moreover, they have really been available every time I have a technical question and are always there to help and support."

- Hildur Ársælsdóttir, Founder, 2020